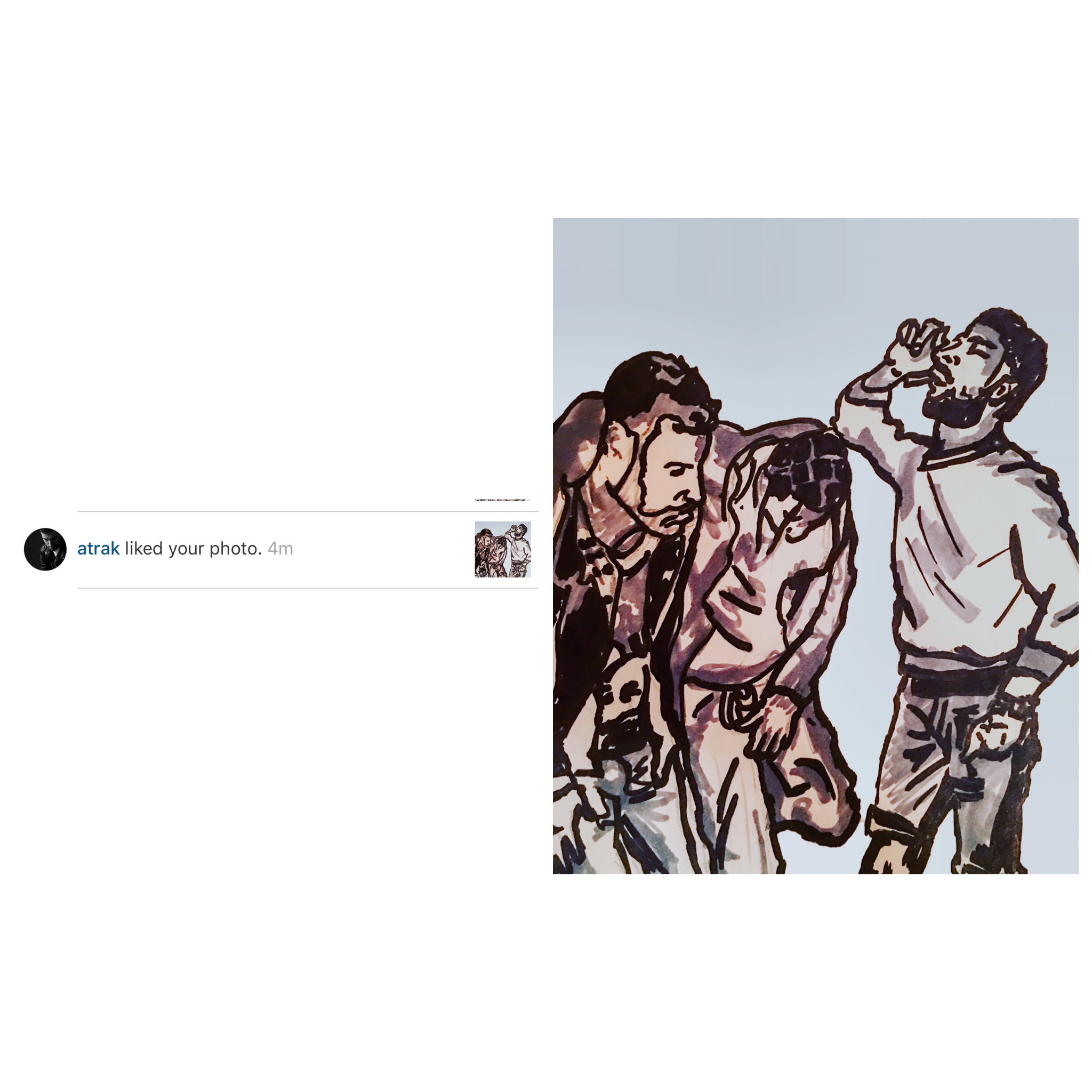 A*TRAK,TRAVIS $COTT & SCOTT MESCUDI
A*TRAK likes portrait of him, travis, and scott.
#DUBNATION
GS Warriors sideline reporter, Rosalyn Gold-Onwude, retweets artwork of Draymond Green and Stephen Curry.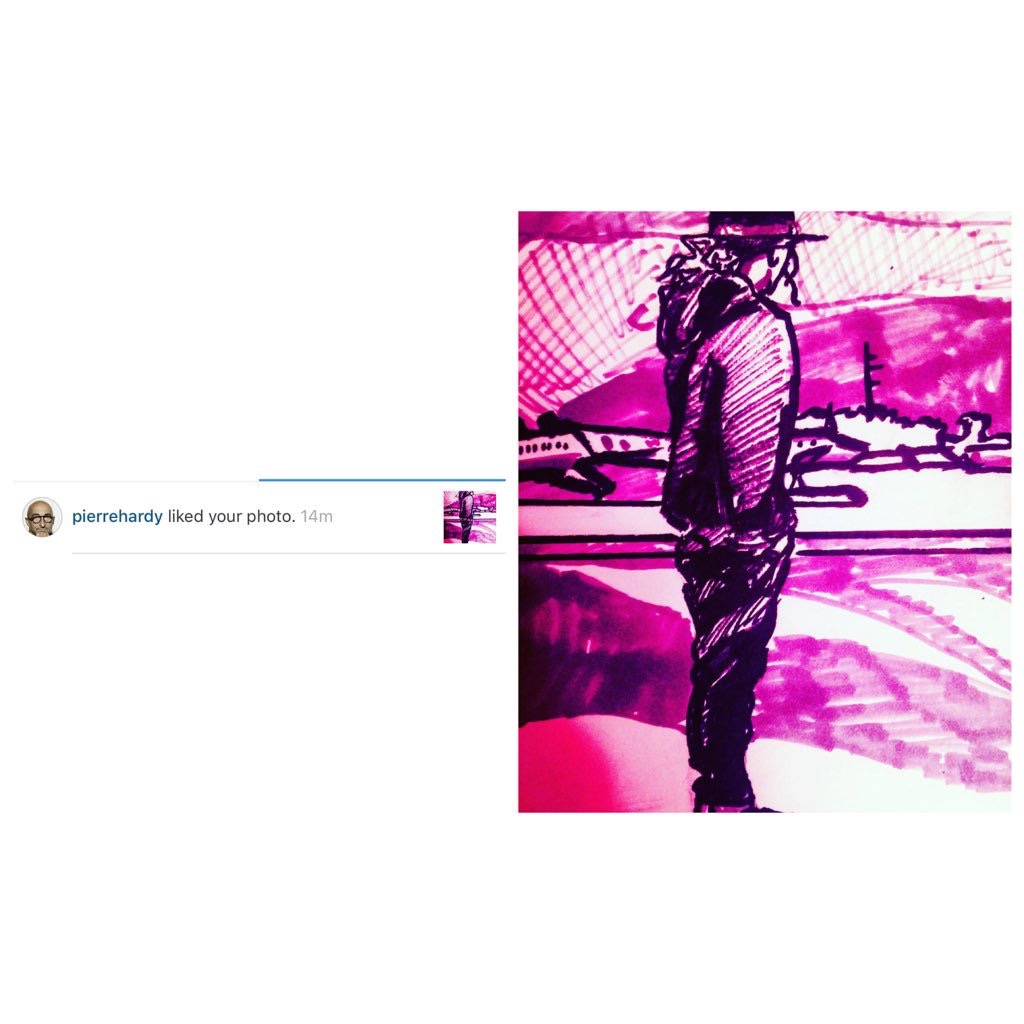 G5 ALERT
Parisian footwear brand Pierre Hardy likes artwork of Future wearing Pierre Hardy sneakers boarding plane.
KEY WANE + BIG SEAN
Hip Hop Producer KEY WANE reposts artwork of him and BIG SEAN, which is liked by hip hop artist BIG SEAN.
FAN LUV\THE DAB IS NOT A SNEEZE
DJ KHALED compliments artwork of on snapchat with fans.
MIGOS retweetes artwork of QUAVO dabbin'.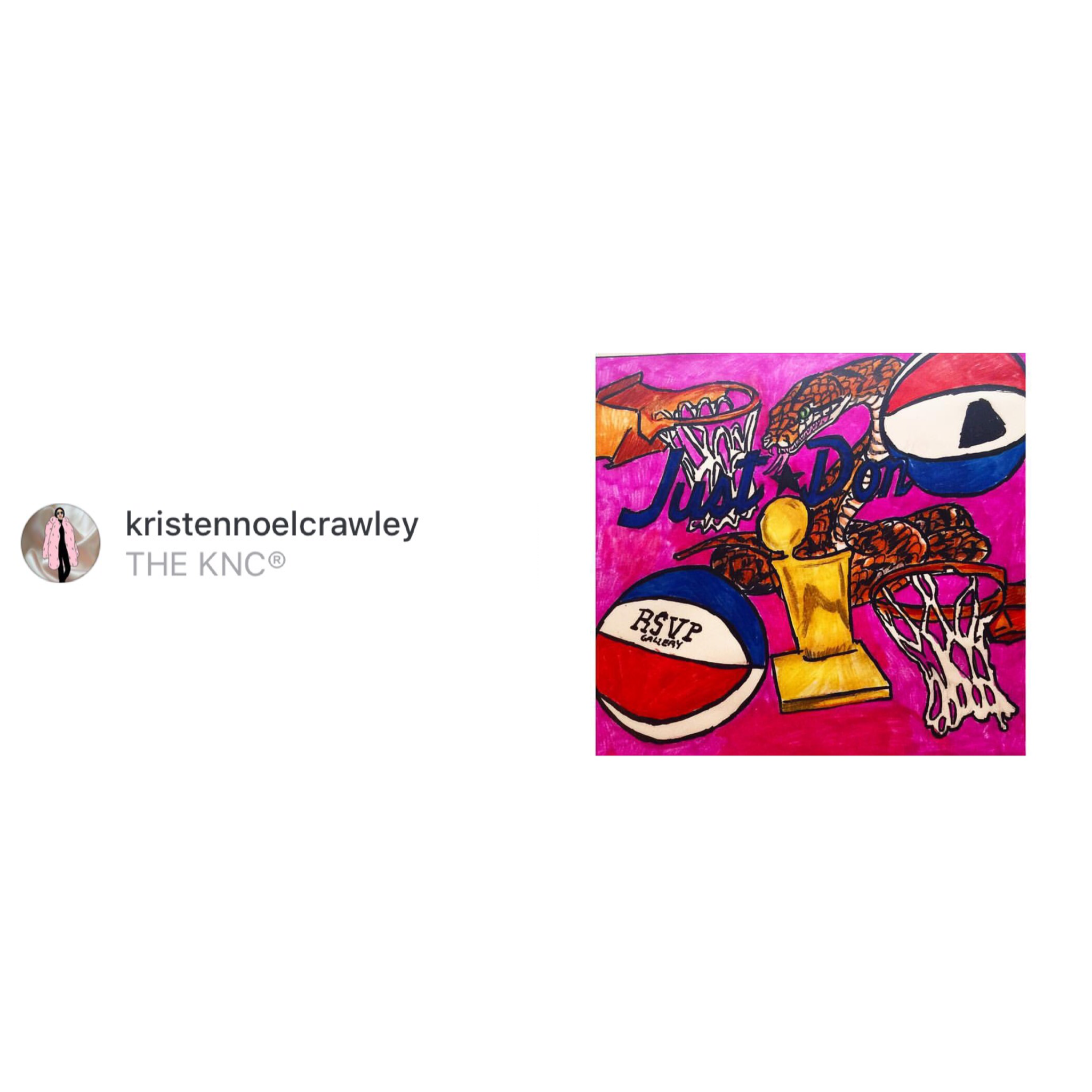 JUST DON
Jewelry designer Kristen Noel-Crawley likes photo of JUST DON inspired piece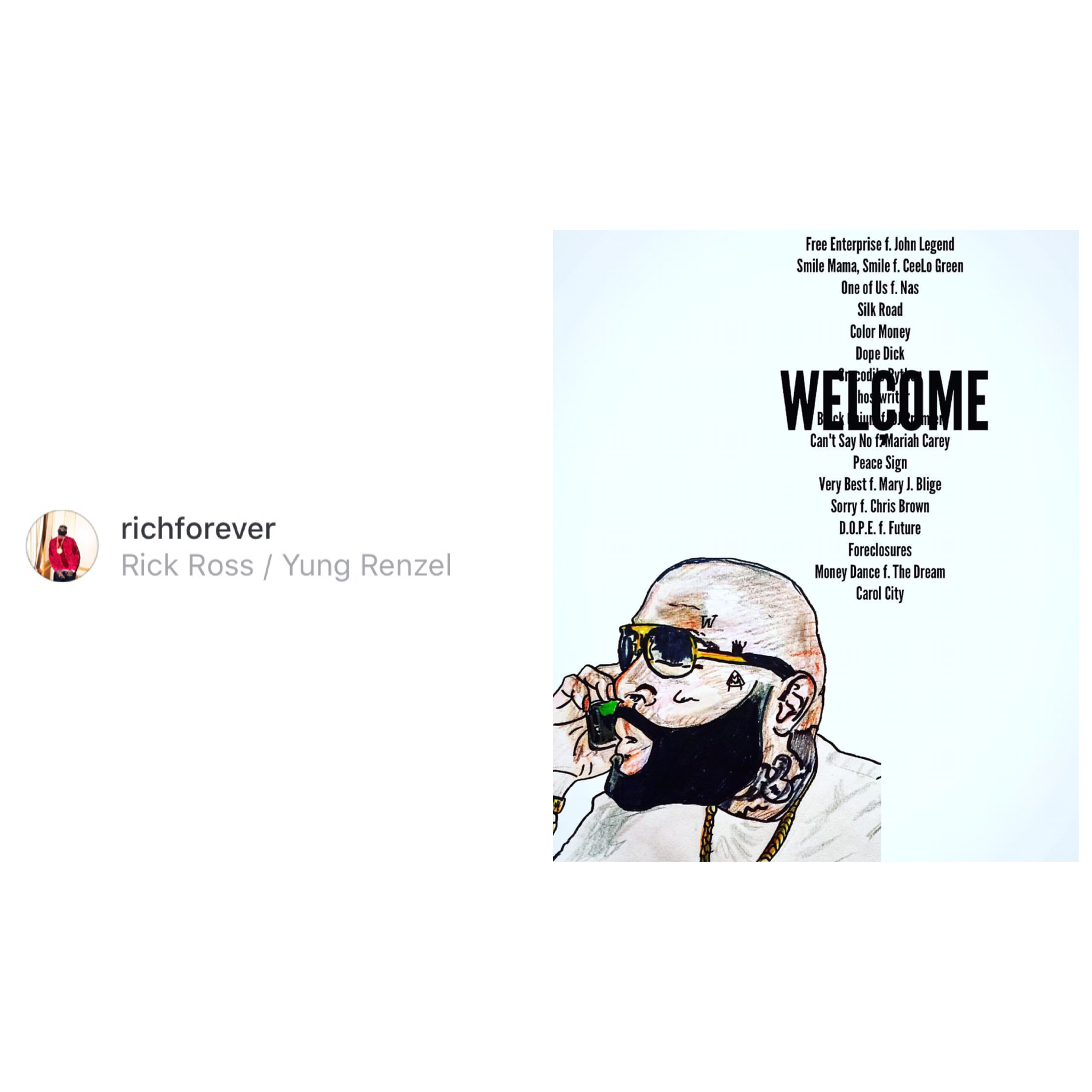 THE BLACK MARKET OPENS DEC.4TH
Hip Hop Artist RICK ROSS likes special WELCOME dedication piece.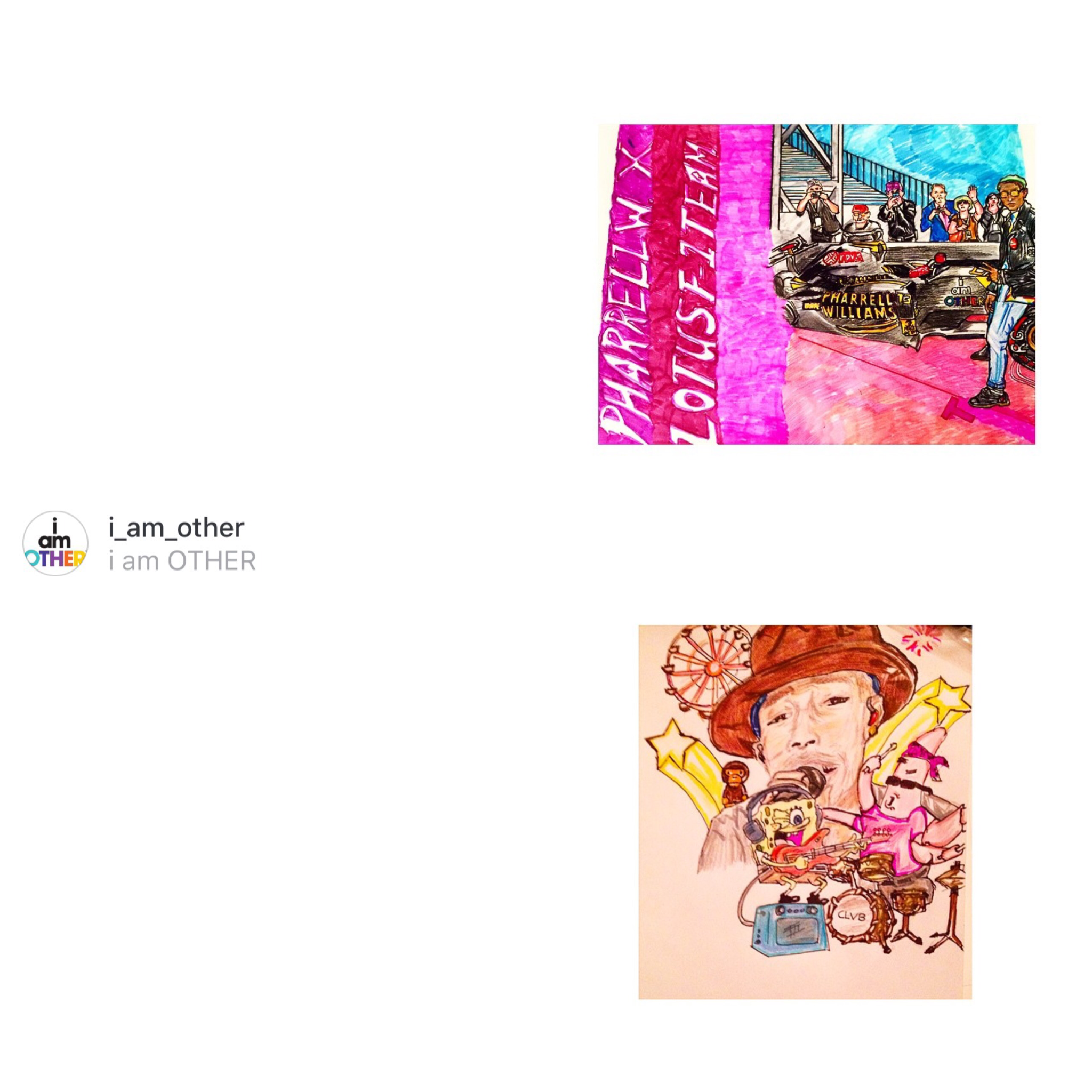 DOWN TO THE RACES/PHARRELL + FRIENDS II
PHARRELL'S imprint I AM OTHER likes two photos of Pharrell x Lotus and Pharrell w/ BABY MILO, SPONGEBOB, and PATRICK STAR.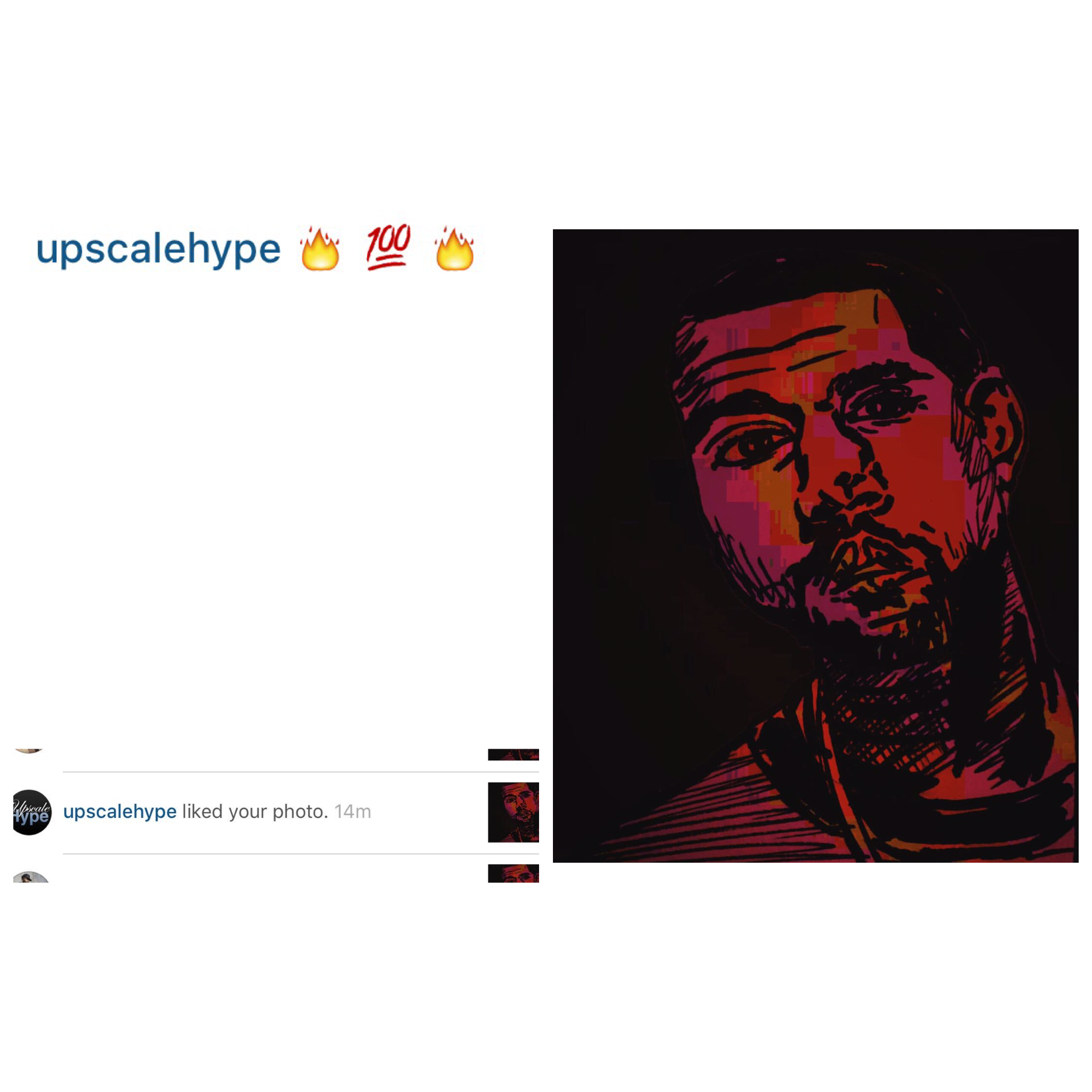 YEEZY WAVE
Fashion Blog/Editorial UPSCALE HYPE likes/comments on KANYE WEST portrait.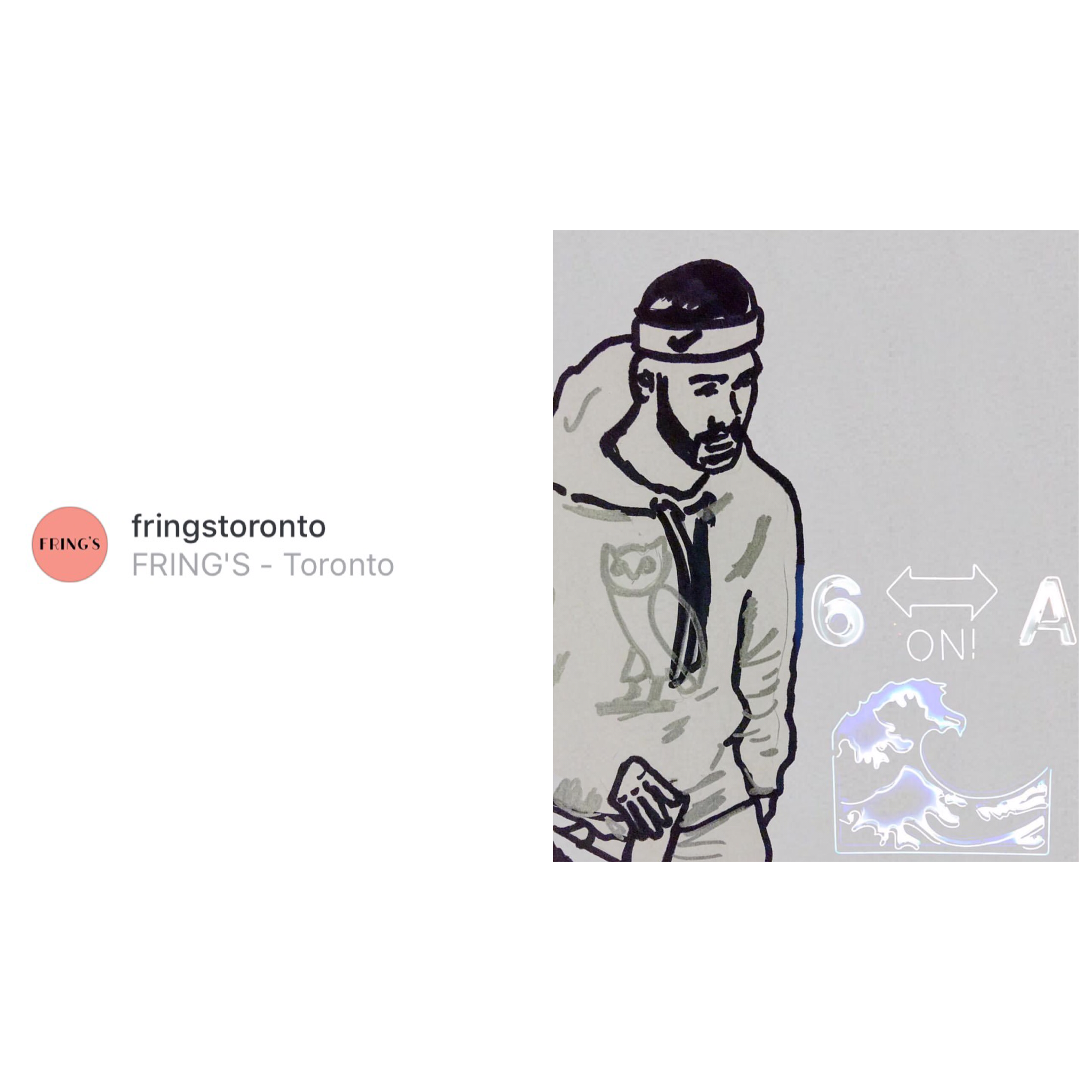 6 ON A WAVE
Drake's restaurant FRING'S likes portrait of Drake.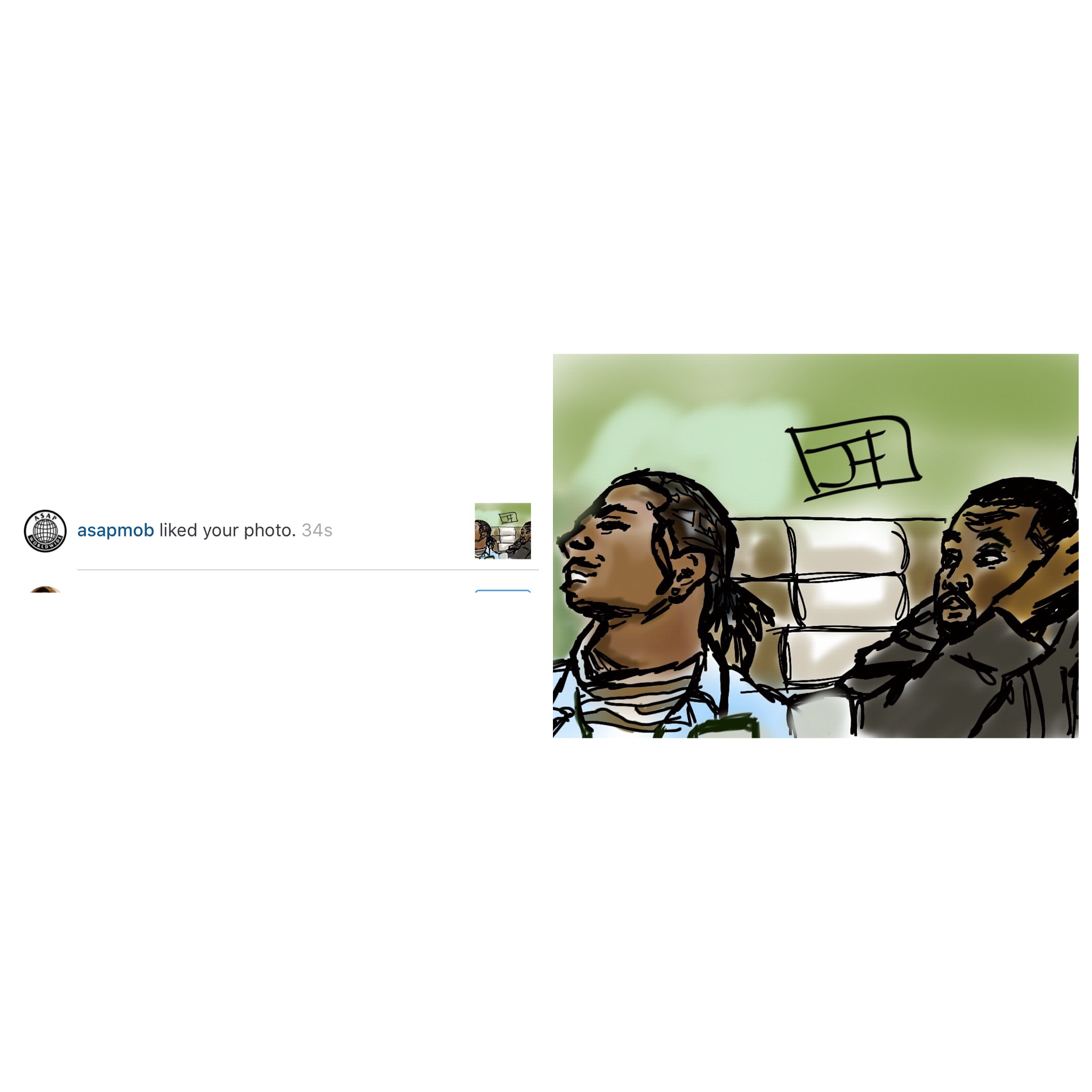 A$VP YE
A$AP MOB likes photo of ROCKY & KANYE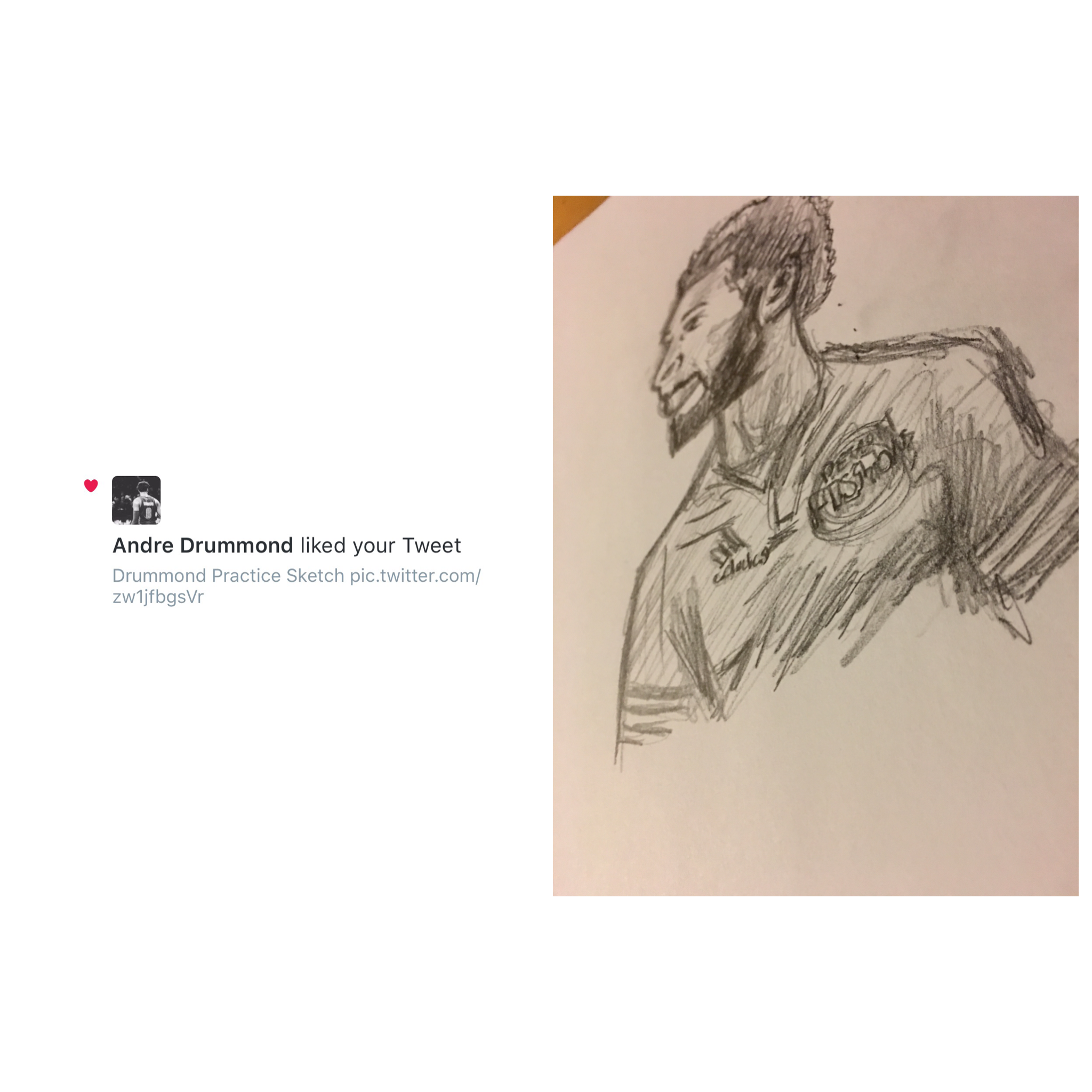 DRUMMOND DRUMMOND DRUMMOND
Andre Drummond of the DETROIT PISTONS likes practice sketch.

SCIONAV
SCIONAV follows 88DOPEGAME on instagram.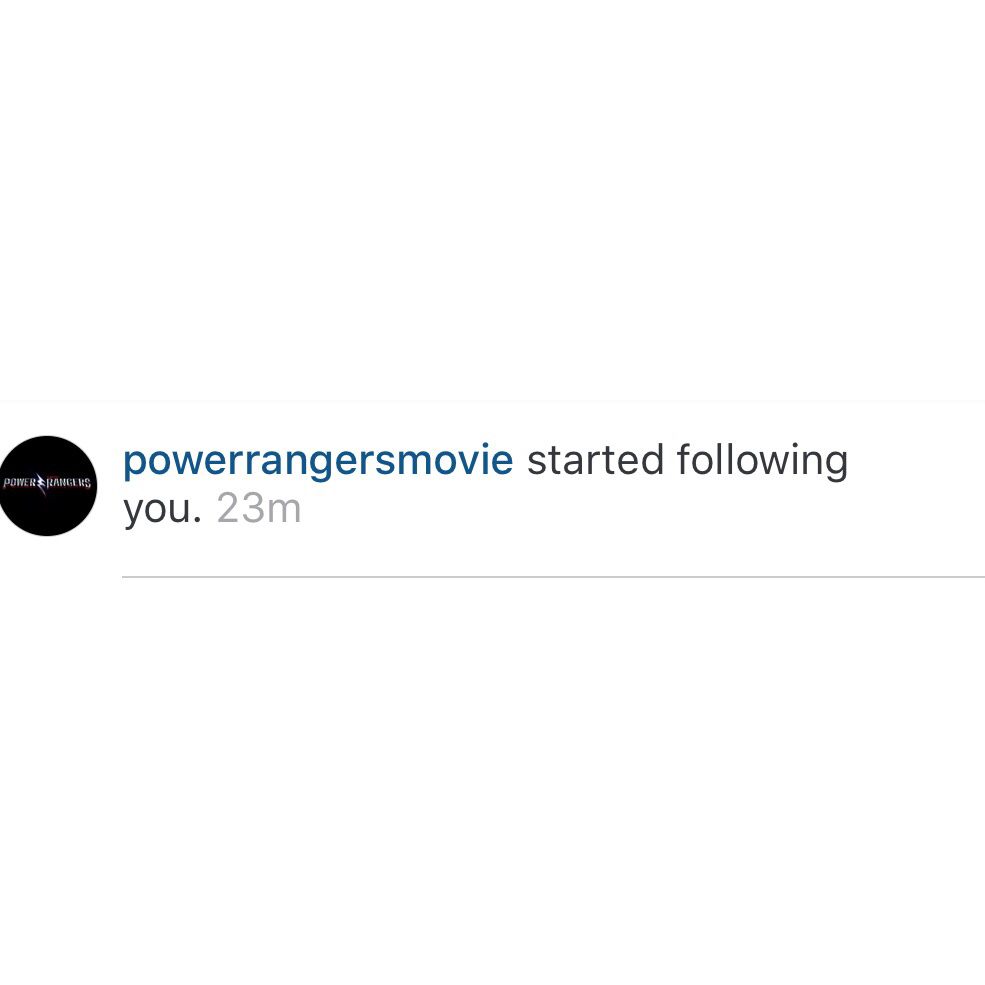 RANGER
Power Rangers, follows THE CORNER on instagram
DEM PUBLIC SCHOOL BOYS
DKNY, likes photo of its recently appointed creative directors, Dao-Yi Chow & Maxwell Osborne of PUBLIC SCHOOL NYC.
MJ 84
LRGclothing, likes photo of Rookie MJ.
BIG SEAN IN BAPE
A BATHING APE (THAILAND) likes photo of BIG SEAN in BAPE x FELIX THE CAT tee.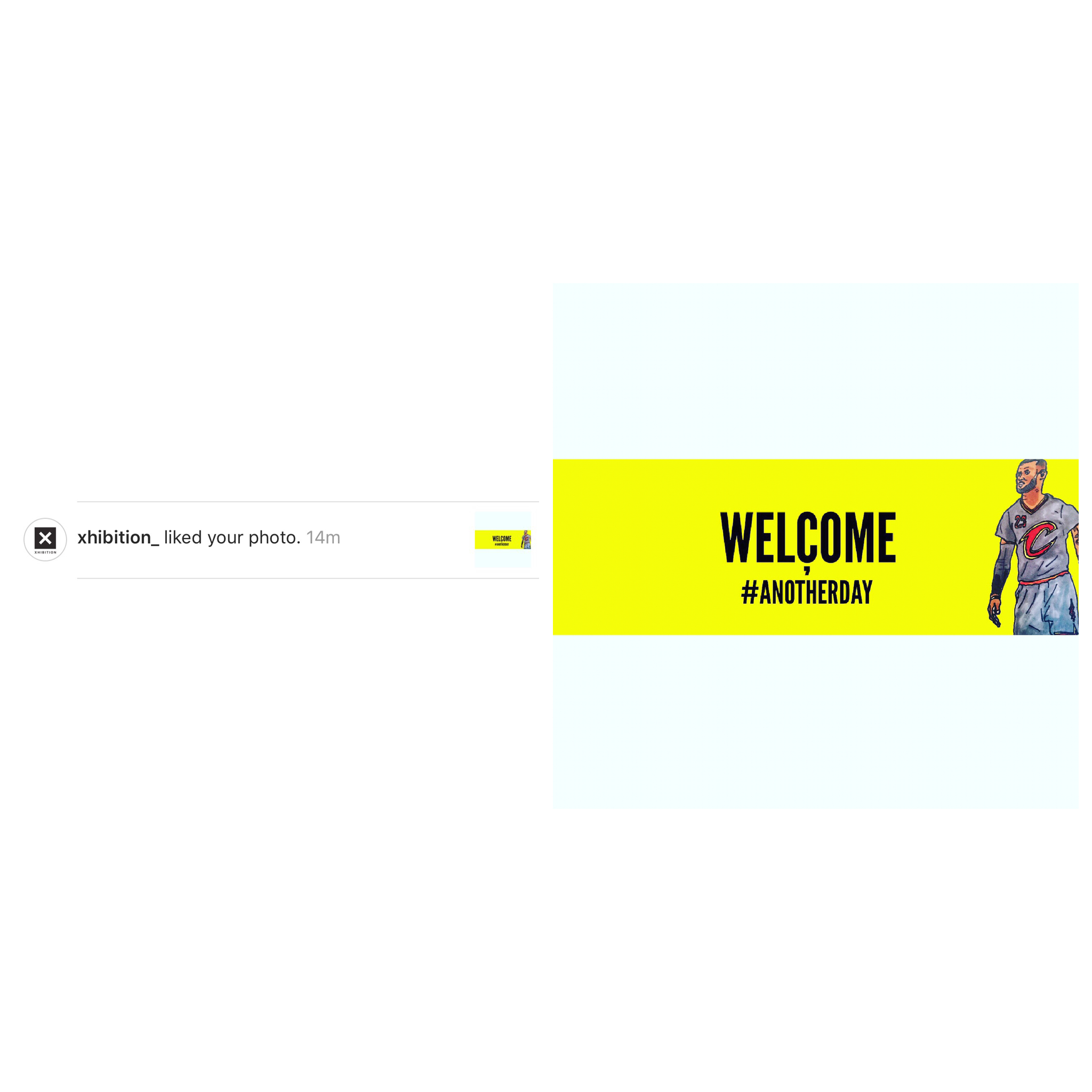 OHIO LOVE
Ohio Sneaker Boutique, XHIBITION, likes photo of Lebron James Finals Banner.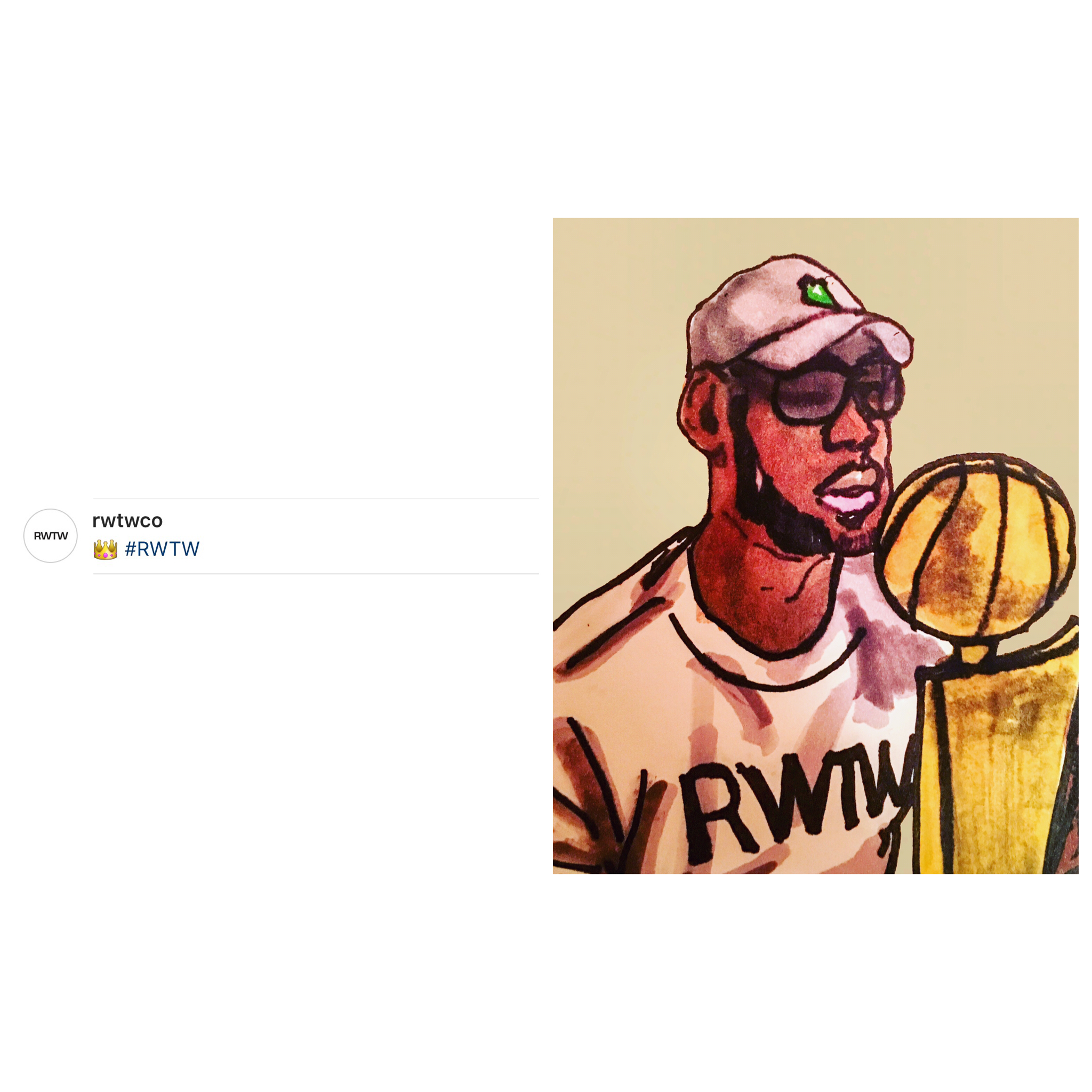 ROLL WITH THE WINNERS
RWTW gives portrait of 2016 NBA FINALS MVP, Lebron James, the stamp of approval.
#SREMMLIFE
Slim Jimmi of RAE SREMMURD, likes portrait of them as they appear in a SSENSE photoshoot.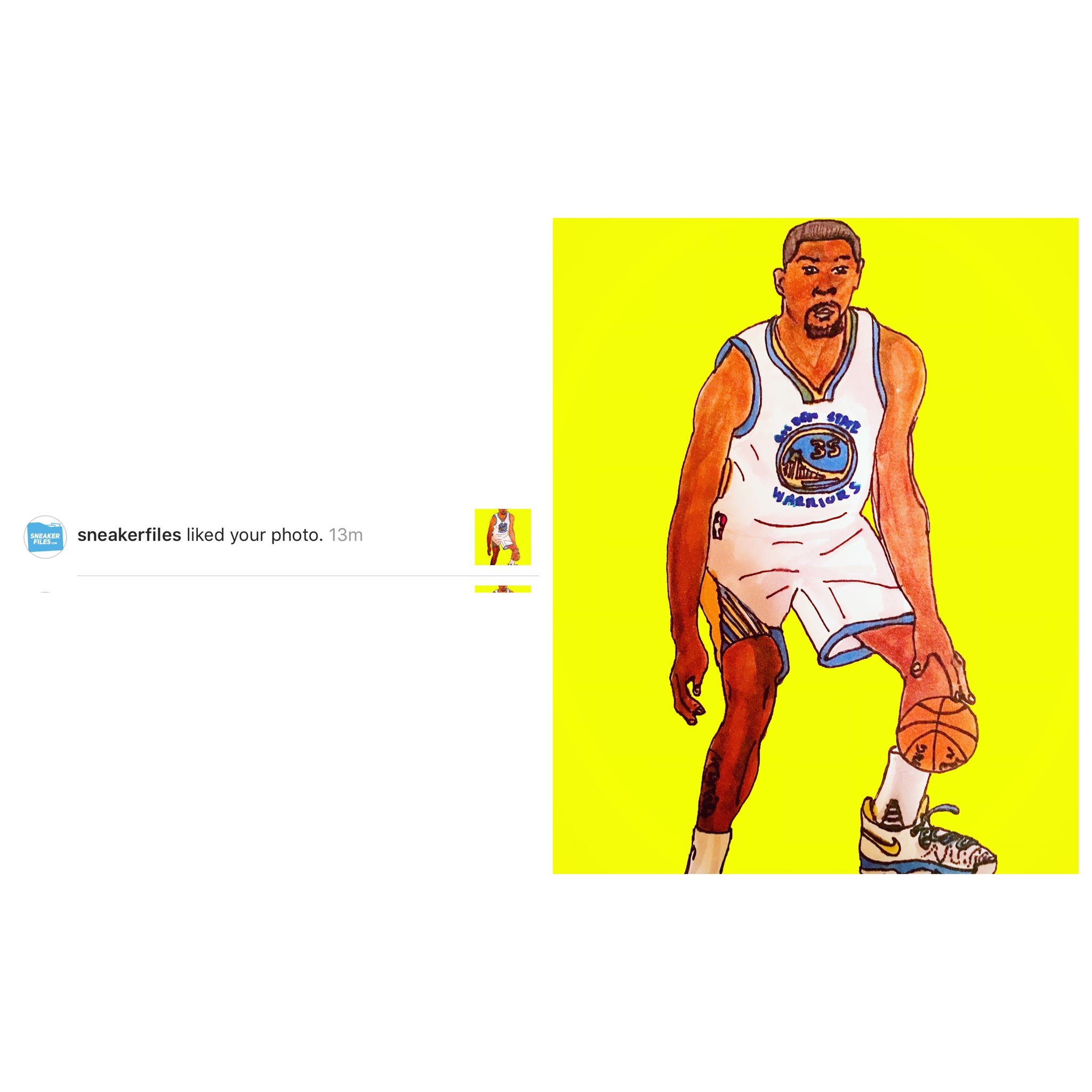 KD9 [GSW]
sneakerfiles.com likes photo of Kevin Durant portrait.
THE GAME, SNOOP DOGG, & LAPD
THE GAME, likes photo of him and SNOOP.
ESCO I BET THE WHOLE U.S. KNOW
FUTURE'S AND NAS' MANGAER, ANTHONY SELAH likes photo of NAS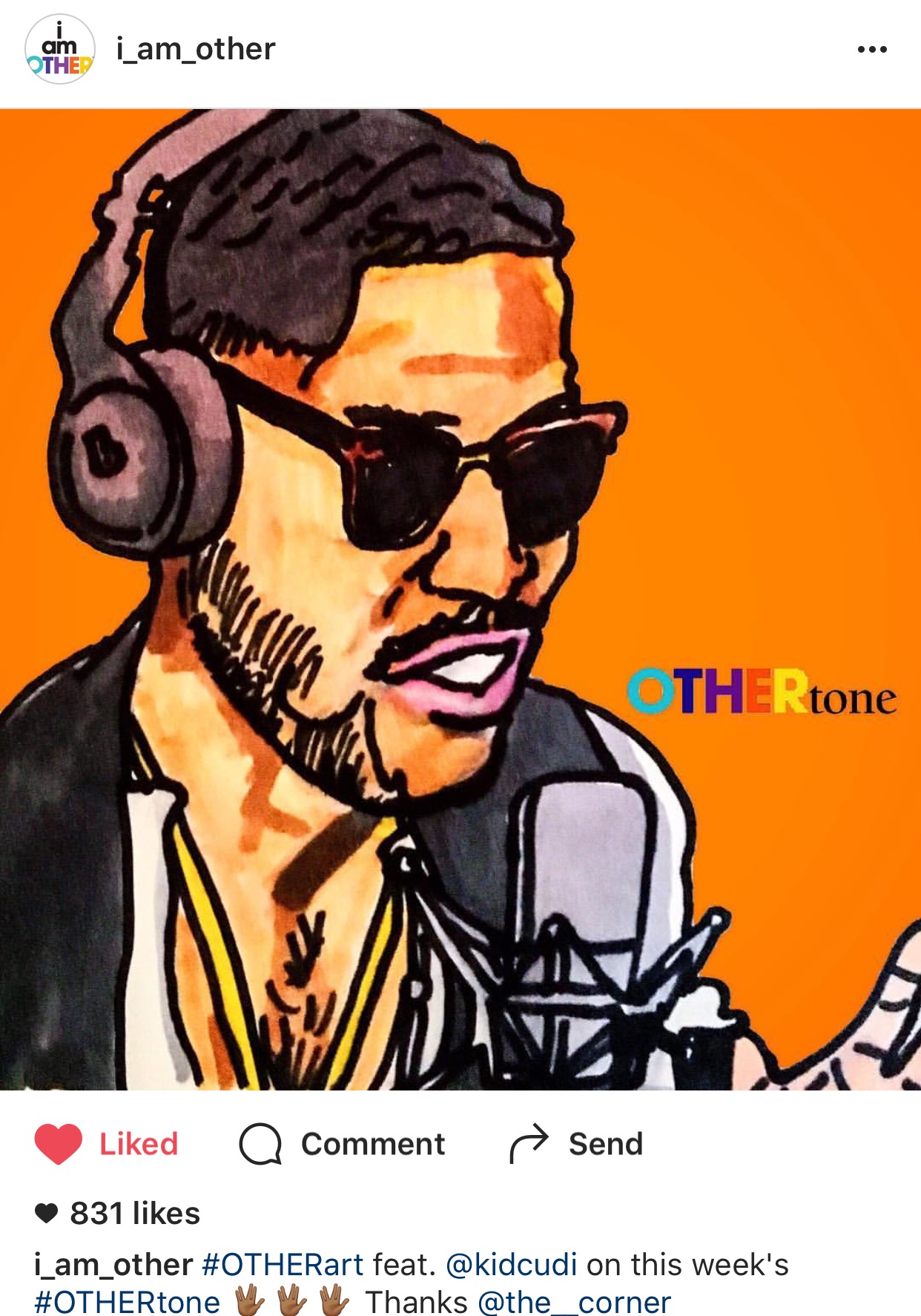 OTHERtone tone tone..
I AM OTHER posys photo I did of KID CUDI.
SWAE LEE LEE SWAE ITS THE SAME DIFFERENCE
SWAE LEE posts portrait I did of RAE SREMMURD
YOUNG L.O.R.D.
YOUNG LORD B.K.A. A$AP BARI retweet portrait of him in the signature VLONE insignia.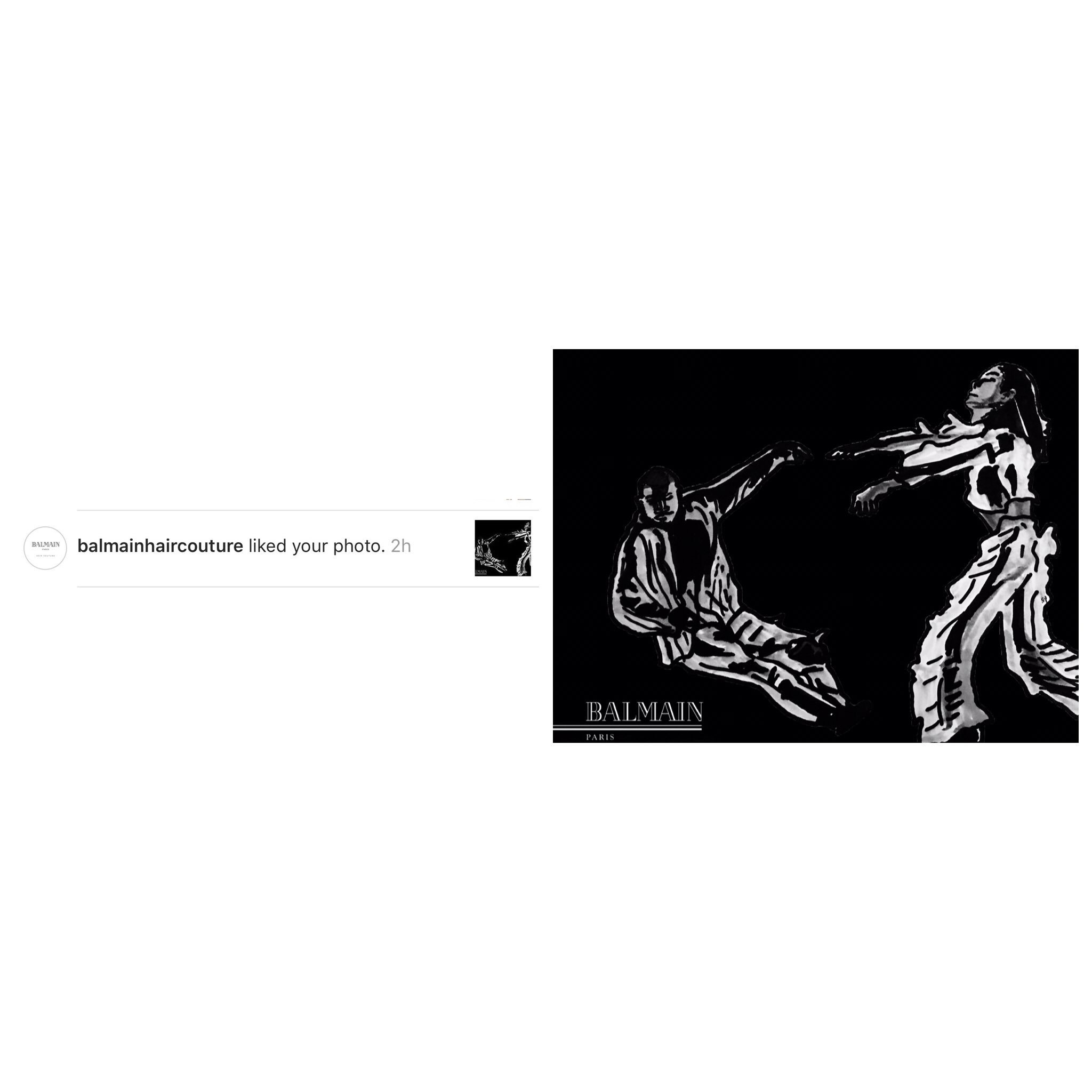 #BALMAINARMY
ALMAIN HAIR COUTURE likes photo of kanye west and joan smalls.
NOVDDDDD
NOVELIST appreciates a portrait depicting him.
CHICAGO DON C
DON C likes photo of him in a JORDAN BANNED mock up ad
CHIEF COMPLEX
COMPLEXCON praises ohoto of CHIEF KEEF who is scheduled to appear at the 1st annual COMPLEXCON in Long Beach, CA...Nov 5th-6th
PLAYBOI TWO TIMES
Atlanta Based Rapper, PLAYBOI CARTI likes photo of himself and of A$AP ROCKY.
DRINK CHAMPS
DJ EFN, stamps photo of N.O.R.E. and DAME DASH.
ROCNATION
Lenny S shows support for portrait of hip hop artist JAY ELECTRONICA
RADIO RAHEEM
SPIKE LEE likes photo of beloved character Radio Raheem FROM HIS FILM DO THE RIGHT THING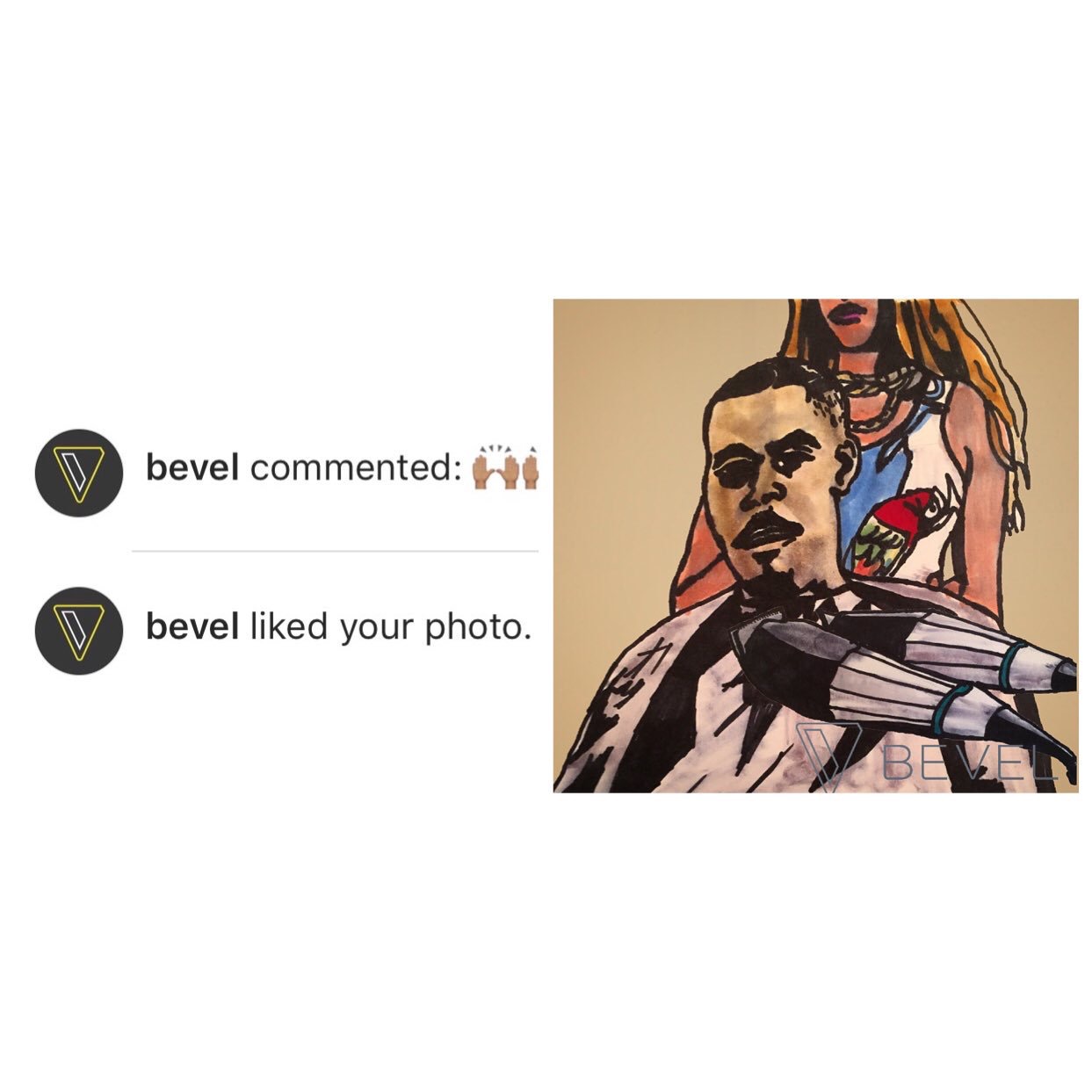 SIGNATURE FADE W/ THE BEVEL BLADE
Razor company BEVEL likes photo of investor and spokesman of the brand NAS.

PURCHASE INQUIRY
BEVEL founder Tristian Walker, inquires about the NAS+BEVEL piece.
PURCHASE INQUIRY
YG inquiries about portrait featuring him and hip hop artist KAMAIYAH
GUCCI GHOST
troubleandrew ( GUCCI GHOST ) frequent GUCCI collaborator likes portrait of hissself.
MBFWRUSSIA
Mercedes-Benz Fashion Week Russia likes photo of reimagned YSL promo.
NBA ON ESPN
NBA on ESPN likes photo of LBJ and JR celebrating their championship!
MICHAEL K. WLLIAMS
Actor Michael K. Williams posts portrait I did of him.
#SECTION
SECTION BOYZ retweets portrait of its members Sleek & Littlez.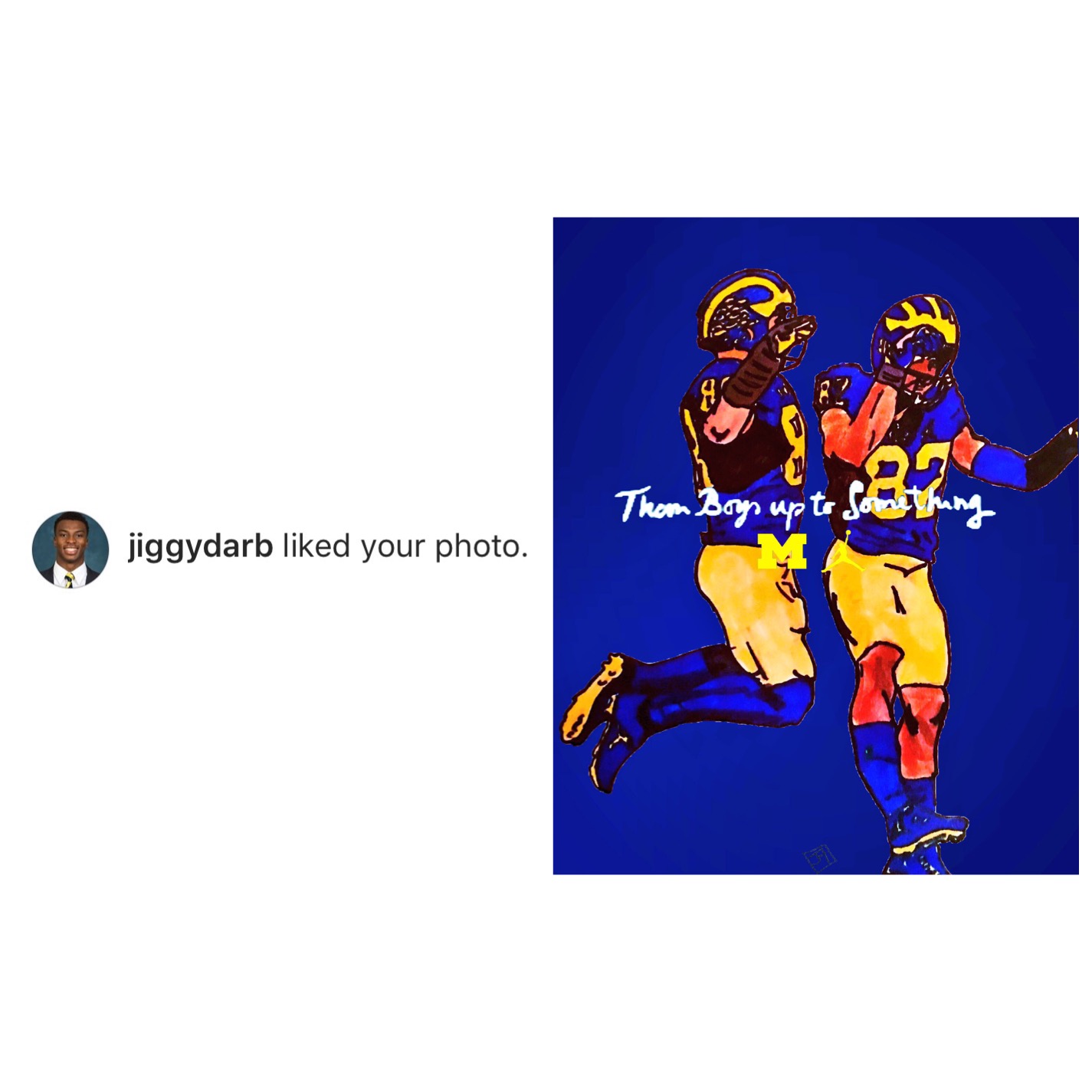 THEM BOYS UP TO SOMETHING
UMICH, receiver Amara Darboh approves of photo depicting the 16-17 Wolverines Football Team.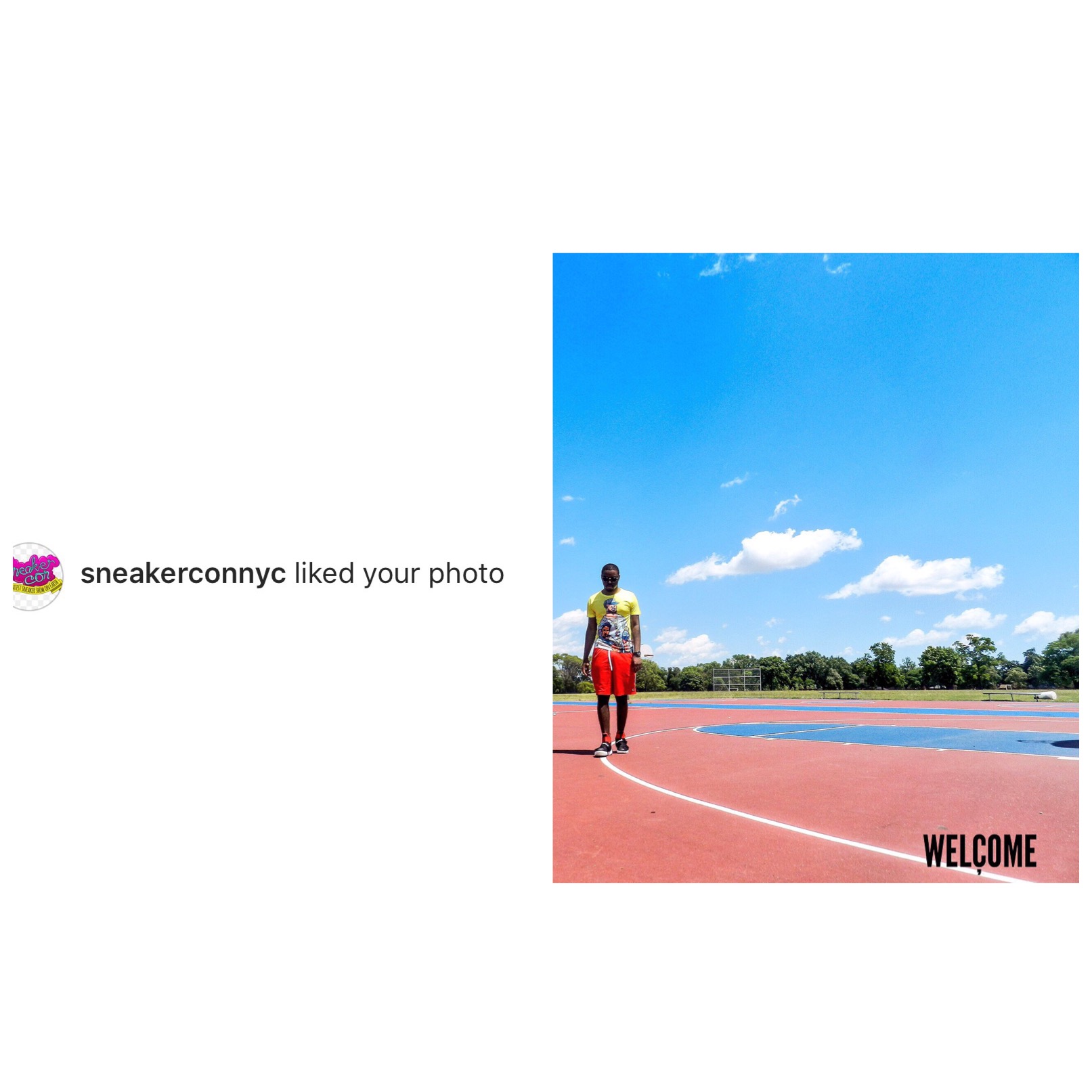 JAMES GANG
SneakerCon shows support of the latest WELÇOME© drop, the James Gang tee.
SWIZZ BEATZ
SWIZZ BEATZ likes and follow THE CORNER
GUCCI HAWK
Atlanta Hawks likes photo of Gucci Mane .
ADIDAS LOVE
ADIDAS complements original Pharrell x Adidas Originals ad.
SPRINGHILL ENT
Production company likes photo of its CEO, MAVERICK CARTER.
LANKY SMOOVE
D.J. WILSON of MICHIGAN gives stamp of approval on portrait done of him.
TORO Y GATO
Chaz Bundick b.k.a. Toro Y Moi approves photo of himself juxtapozed w/ FELIX THE CAT.
ZANE LOWE
Beats1 Radio Host, ZANE LOWE, shows excitement for portrait of him and BIG SEAN.
TIMBO CHANEL
Legendary Music Producer Timbaland likes photo of latest CHANEL inspired piece.
WE NEED LEADERS
New York based fashion brand, PUBLIC SCHOOL likes mock campaign featuring NY rappers CAM'RON & JUELZ SANTANA
C DUBB
NBA LEGEND Chris Webber, likes photo of 90s Basketball superstars.
JORDAN FAMILY
DON C appreciates photo of him and his wife depicted in a campaign for his JORDAN BRAND collaboration.
OVO TING
OLIVER EL KHATIB (Co-founder of OVOSOUND and 1/2 of OctoberFirm with Drake) likes photo of campaign for OVO clothing.
GARY VAAAAAY NER CHUK
Marketing Expert & Wine Connoisseur Gary Vee shows excitement over portrait of him and rapper Nipsey Hussle.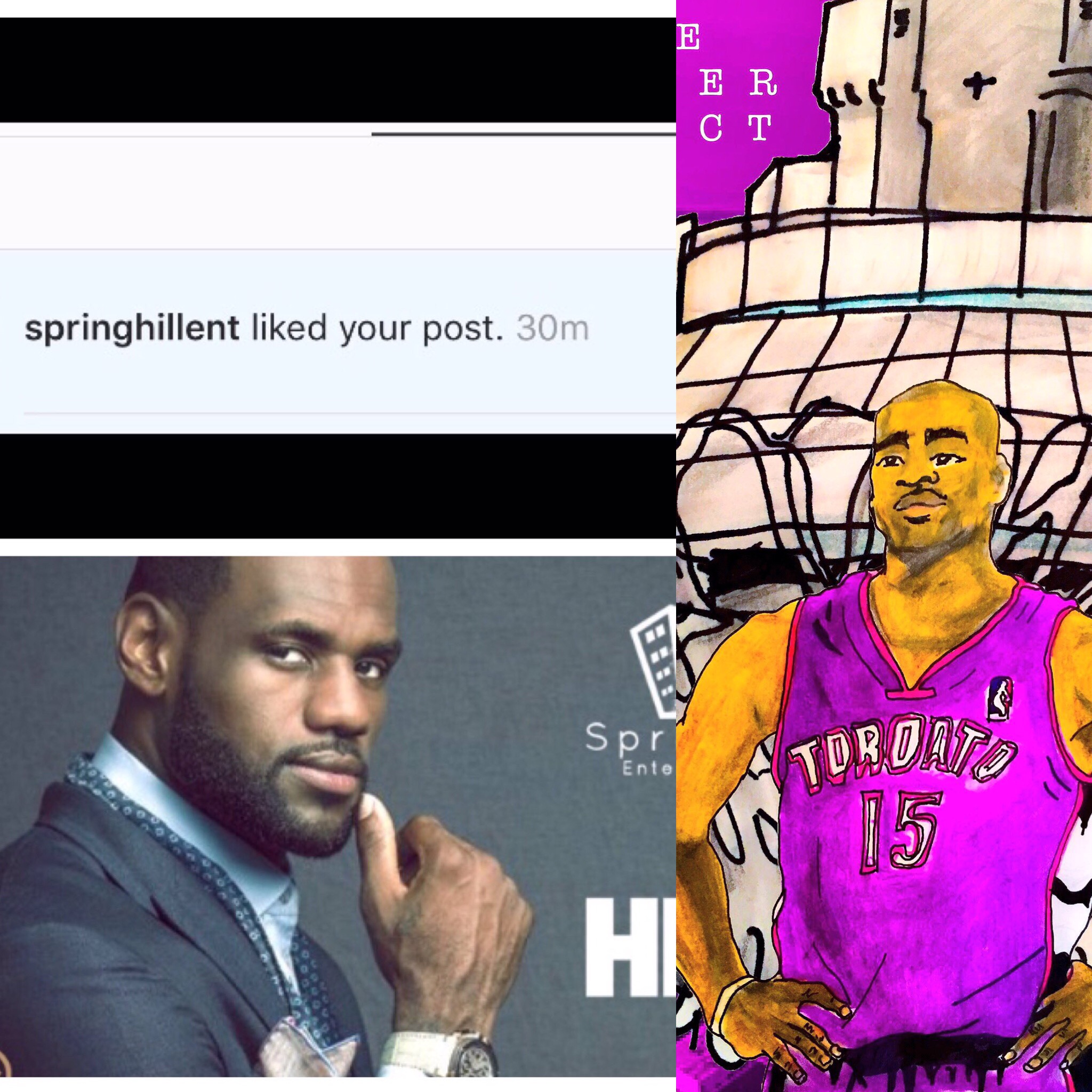 SPRINGHILL FEELS
Lebron James & Maverick Carter's production company, SpringHillEnt enjoys pic depicting their upcoming original feature THECARTEREFFECT
SN1 SEASON
The official label page of UK Rap Star GIGGS retweets art dedicated to the rapper.
JUST BEKAWS
Legendary Visual Artist KAWS likes photo of reposted Swizz Beatz portrait I did,
PLAY PUSH
Pusha T's clothing line PLAY CLOTHS, likes Pusha T portrait.
THE REPOSTFATHER
Legendary hip hop Act, Snoop Dogg, reposts portrait from the__corner page!
MARV SNOOP
SNOOP DOGG continues the suppport by appreciating this ferocious portrait of Marvin Bagley III.
AKOO TO YOU
AKOO CLOTHING founded by T.I.P. likes new years portrait celebrating new business between Joe Budden and Diddy.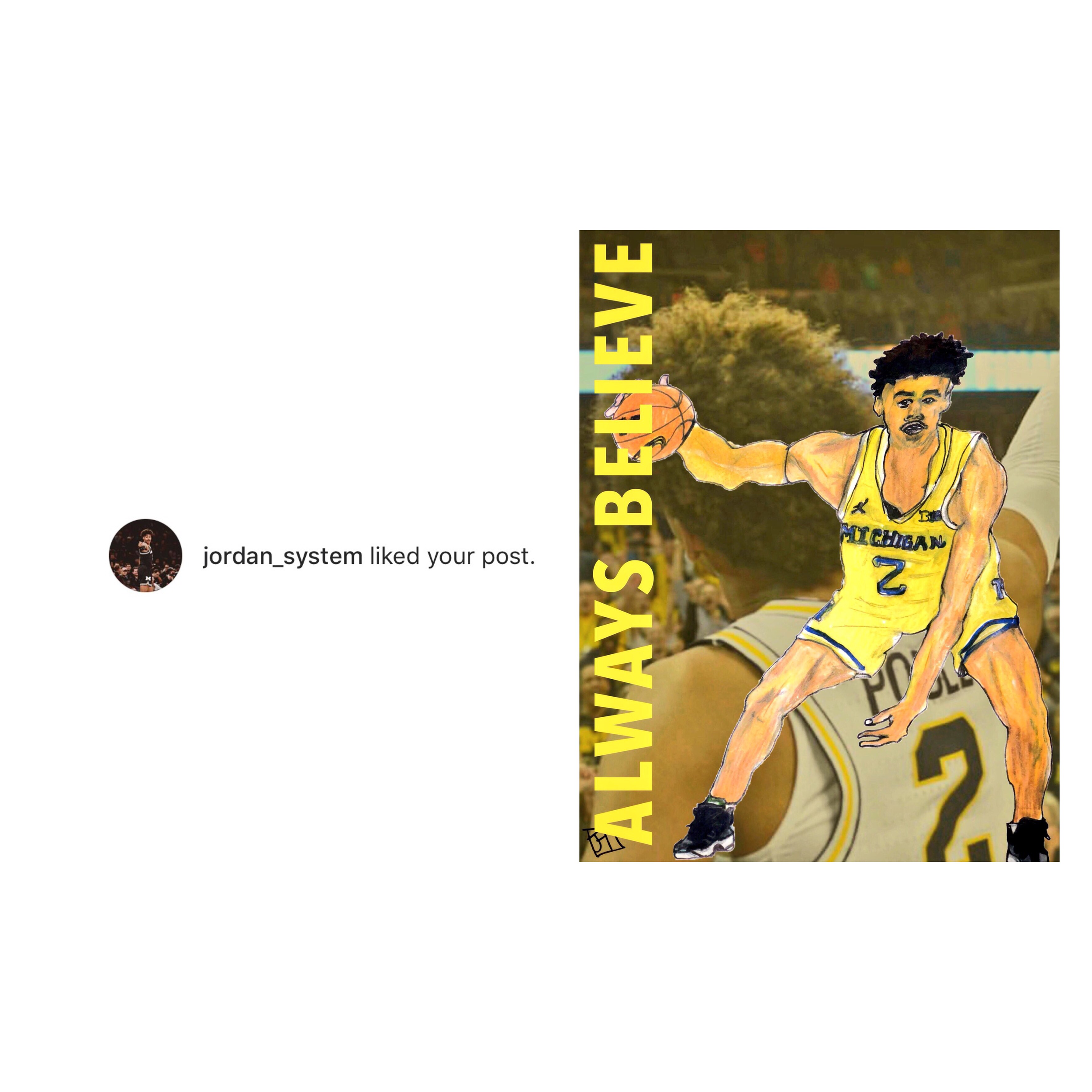 JORDAN SYSTEM
Beloved UMICH freshmen, Jordan Poole gives official stamp of portrait depicting him.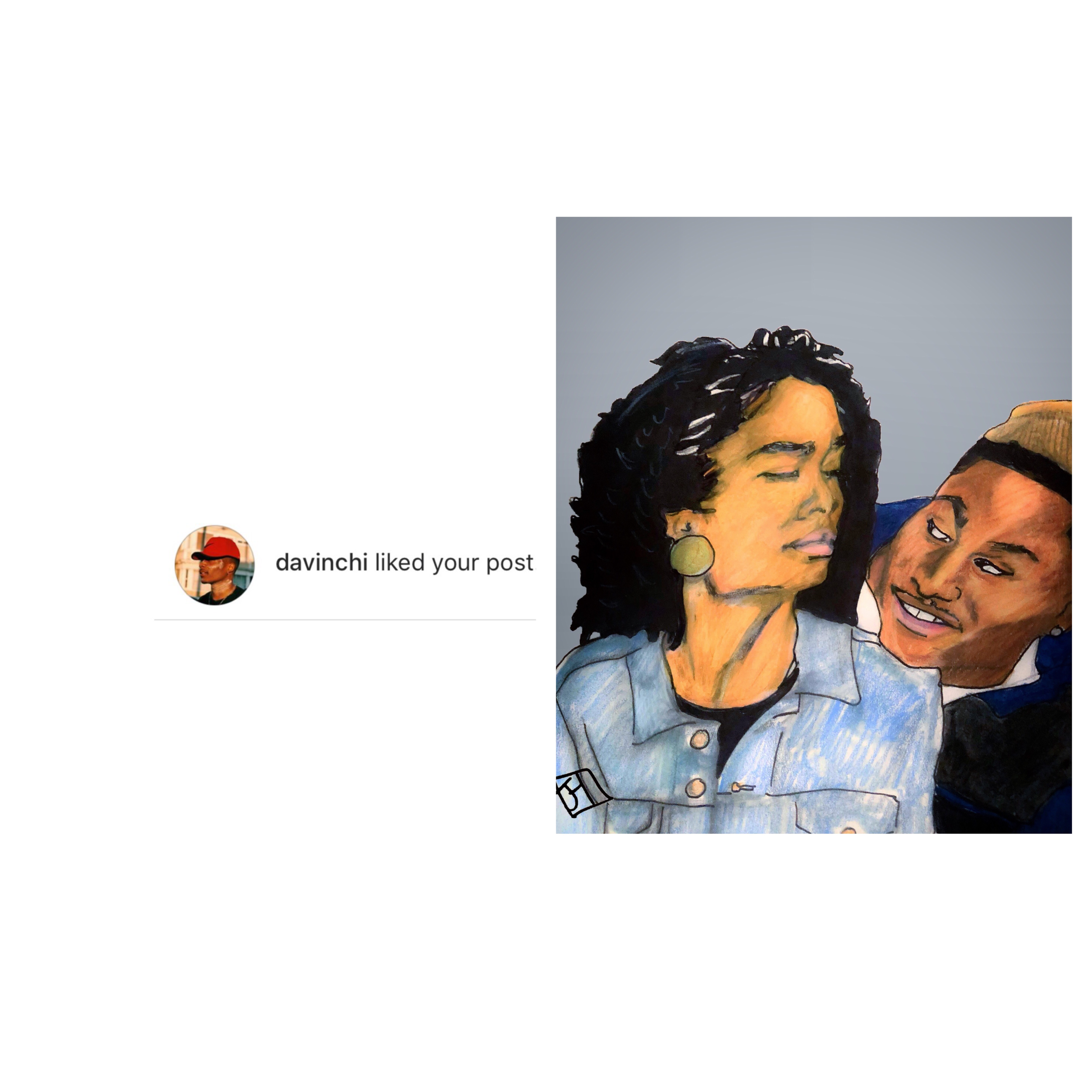 GROWN-ISH
DA'VINCHI, BETTER KNOWN AS CASH MOONEY FROM THE HIT SHOW GROWN-ISH likes photo of him and YARA SHAHIDI's characyer as depicted in the show.
KNOW YOUR ARTS
Kaepernick's KNOW YOUR RIGHTS camp likes photo of KAP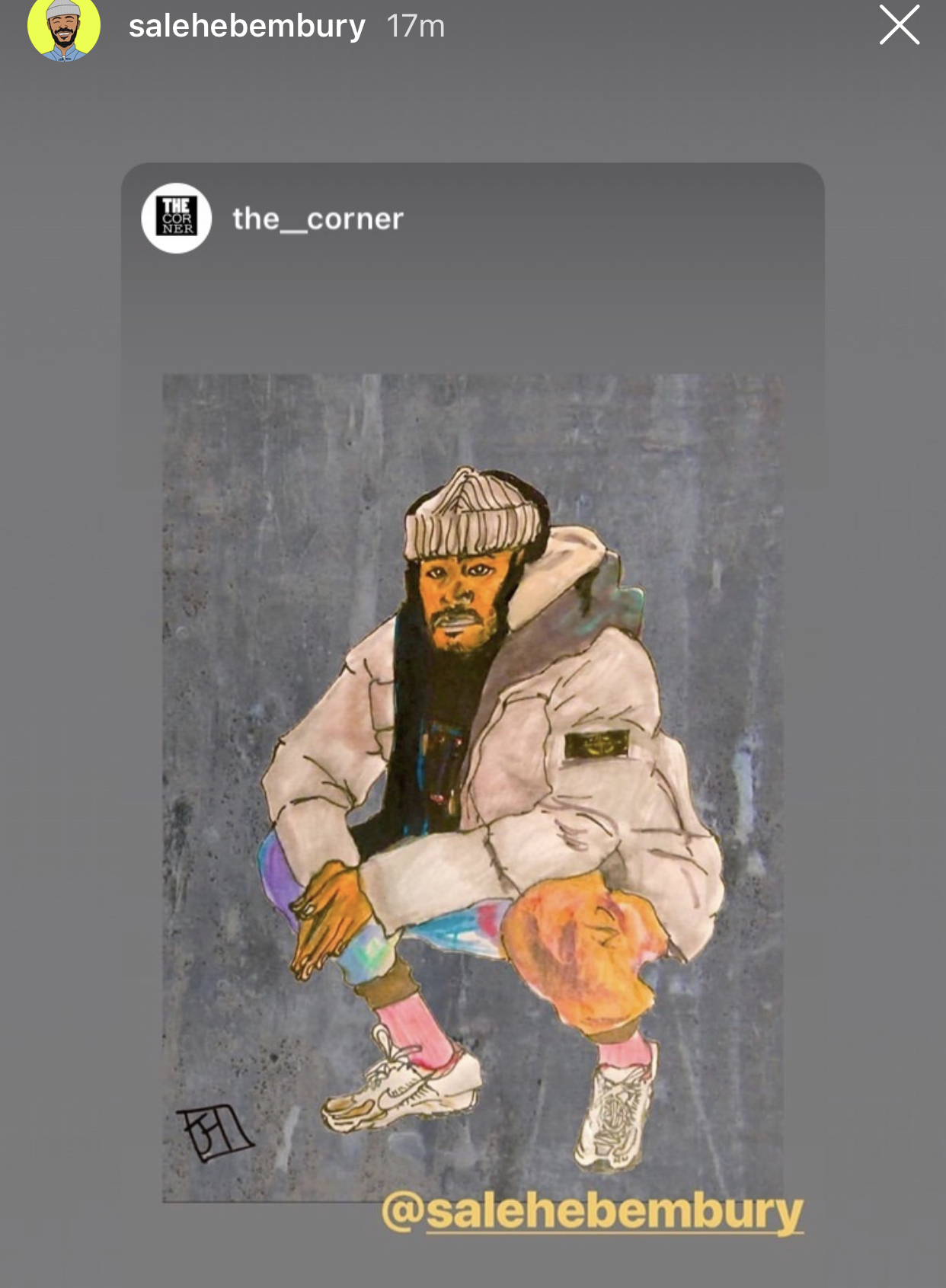 SALEHE
SALEHE BEMBURY versace sneaker designer and yeezy sneaker designer, reposts portrait of himself

"TMINUS WAS MAKING BEATS"
Super Producer T-Minus, likes vashtie x CUDDER Portrait.

THE ROGESTER
Comedian & Writer , Seth Rogen likes Portrait of him and James Franco